Leadwork Services in Chester
We Offer the Highest Quality Workmanship and Service at All Times.
Call us on 01244 470237
Leadwork elements such as weathering and flashings are used to protect vulnerable joints on your roof. These elements are critical to the successful installation and performance of the roof. For a fully weatherproofed roofing system, the leadwork needs to be handled by an expert roofing professional in Chester. With hundreds of roofing leadwork services operating in the region, finding the right service isn't an easy task. There are many things to consider when choosing the right service in Chester. Here is why you need to choose Roofers Chester for all your leadwork needs.
All our lead workers are highly skilled and trained to deal with any type of roofing system. They have received the training from the Lead Sheet Association. The extensive experience of technicians ensures the highest quality installation on even the most complicated projects. Our leadwork services include:
Maintenance
Installation
Cleaning
Inspections
Repair
Replacement
Stripping
Our team is highly proficient at working in a high-temperature environment that involves lead sheet flashings, weathering, and gutter linings. We handle all the technical work with care and attention. That is why you need to call our expert roofing leadwork service for all your leadwork needs.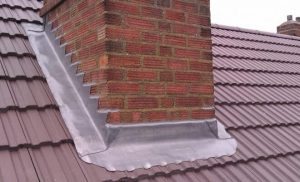 Leadwork issues can result from a number of things such as:
Movement
Leadwork should be able to freely move. The size of the leadwork will considerably change in the warmer months and colder months. When the leadwork cannot expand or contract with the changing temperature, it may lead to curling and lifting. This, in turn, will result in damage and water seeping.
Moisture
When a building isn't properly ventilated, moisture can gather in the roof space internal to the property. The leadwork can corrode over time because of this reason. You will notice a white powder on the underside of the leadwork.
Fixings
Fixings should be correct with leadwork on your roof. Since lead is heavy, the fixings placed too near the edge of the material can be torn due to wind lift. This can cause water seepage and damage the internal of the roof.
You need a roofing leadwork service with many years of experience to deal with these problems. We are the best with lots of experience and many happy customers in Chester. We offer quality workmanship and service at all times. Call us today for all your leadwork needs.